Customer Success
NEW YORK CASINO HITS JACKPOT
With fully integrated security and risk management solution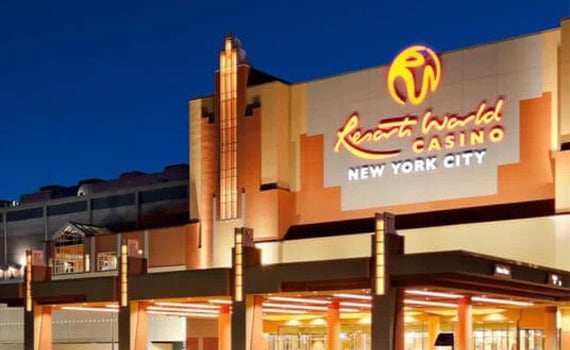 "By automating security and surveillance functions, we've saved considerable man hours while increasing the integrity of our data, allowing us to realize full return on investment in just 4.5 months." Jason Arnett, Director of Surveillance for Resorts World NYC


Now equipped to efficiently document, share, and manage all of their security and surveillance information between departments, Resorts World is saving over 300 hours each month and more than $10,000 per year.
Customer
Resorts World Casino NYC
New York, NY
Challenge
With approximately 1,300 employees, an average of 20,000 guests daily, and 6,500 parking spots on site, the casino handles numerous security incidents, including theft, unwanted banned patrons, personal injuries, and vandalism. Even routine incidents can require a substantial amount of manpower and, if not handled in a timely manner, could compromise business operations and services, and potentially cause exposure to liability.
The manual methods of recording, tracking, and reporting utilized by the casino were cumbersome and inhibited the investigation and reporting process. Information was inconsistent and not readily retrievable, and media files were often not associated with an incident. Compiling meaningful reports was a lengthy and arduous task, making it difficult to correlate events to identify areas of risk and optimize staff allocation.
Solution
Jason Arnett, Director of Surveillance for Resorts World NYC, spearheaded the casino's initiative to automate security reporting, mitigate risk, and improve efficiencies. Knowing Omnigo's proven track record in the gaming industry—and its successful use for security and surveillance reporting at Resorts World's sister casino in Singapore—Arnett turned to Omnigo for a solution.
Resorts World deployed Omnigo's fully integrated incident reporting and risk management solution, incorporating Lost and Found, Officer Dispatch, License Plate Recognition, Visitor Management, Personnel, Gaming Audit, and Intelligent Gaming Network modules.
The implementation transformed their cumbersome manual process into a user-friendly, high-performance security risk management system.


Results
By deploying Omnigo's fully integrated solution, Resorts World NYC has been able to transform its cumbersome manual processes into a high-performance security risk management system. The new platform has not only saved the casino valuable man hours, but allowed its security and surveillance staff to shift from reactive to proactive measures.
"Our security and surveillance staff immediately felt at ease using the software. Its simple, intuitive interface and logical workflow enables us to easily collect and manage data," says Arnett. "Now we're equipped to rapidly analyze events and take action, as well as identify trends and share reports with executive management. These solutions have improved communication and help us reduce potential losses or issues, including those associated with advantage team play, shoplifting, or fraud."
In addition to implementing tracking and reporting software, Resorts World is taking a layered approach to detecting, deterring, and resolving issues at the casino. The License Plate Recognition module monitors license plate numbers as vehicles arrive and triggers notification alerts to allow security to deal with or intercept individuals identified on the watch, ban, or VIP list before they enter the casino. Similarly, Visitor Management checks in and monitors visitor, contractor, and vendor/supplier access to the property, providing detailed visit logs and screening against watch lists to aid with access, accountability, and compliance.
"Automating and digitizing our data on one central reporting platform has enabled us to achieve order, structure, and control. With this solution, we've been able to shift from reactive to preventative measures," says Arnett.
To learn more or request a free demo
call: 866.421.2374
email; info@omnigo.com
About Omnigo
For more than 20 years, Omnigo software solutions have been the preferred choice for law enforcement, education, healthcare, gaming, hospitality, and corporate enterprises Currently, Omnigo's solutions are used by over 2,000 customers in 20 different countries. At Omnigo, we're committed to helping customers secure their organizations' property, control operational costs, and ensure the safety of the general public.
We believe our customers deserve the best support available to protect their people, assets, and brand. We also understand how challenging it can be to protect the community without the proper resources. We're here to arm users with the best tools in the industry. With a team that includes former law enforcement, first responders, and other public safety professionals, we're uniquely qualified to understand exactly what our customers need to protect their community.
Tailor Your Security System to Ensure Increased Visibility, Safety, and Reporting.
Schedule your customized demo