Leverage Critical Information to Make Decisions
With a broader, more accurate view of an incident, paired with automated reporting, you can feel peace of mind that your team has all the tools they need to protect themselves and their community.
Report Exec Highlights
Utilize mapping to see where your officers are in the field
Centralized database for contacts
Reports are automatically completed and immediately accessible to officers
Ability to search vehicle plates and associated contacts
Improve flow and communication between dispatchers and officers
Clery module streamlines reporting and limits human error
Improve and simplify NIBRS reporting
Notifications automatically alert you when a person of interest is selected
Click codes for faster search


Enhance Reporting Processes to Improve Response Times
Centralized Location
With the ability to upload information associated with location and call type elements, dispatchers no longer need to jump from one software to another. Everything they need is easily accessible in a centralized location.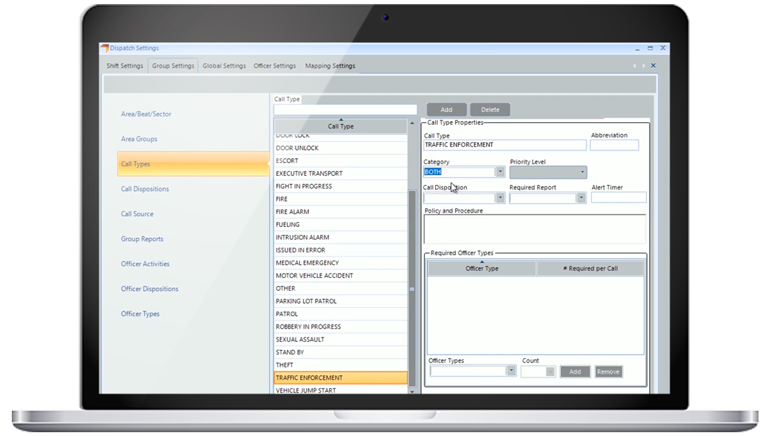 DISPATCHblue
From notification through disposition, DISPATCHblue allows users to record incident data, track resources, access pre-plan information, and validate their actions against policy and procedure checklists, expanding the organization's situational awareness and reducing liability.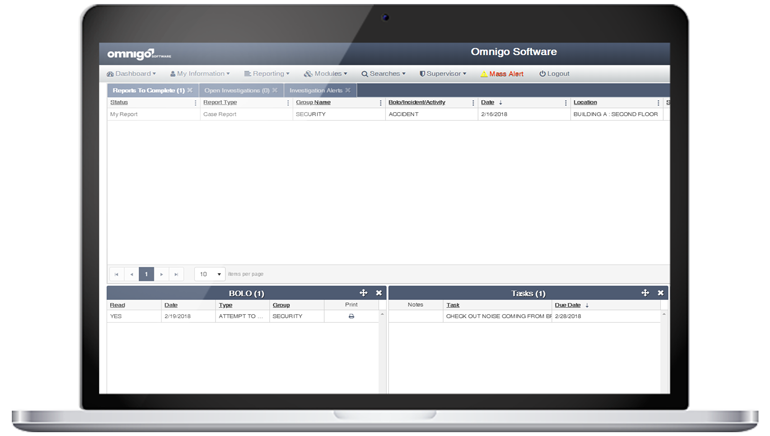 Public Crime Log
Public crime logs must be available within 24 hours of an incident. Rather than manually updating logs, our system automatically updates required elements, preventing potential violations and fines.
360 Analytics Model
Our 360 Analytics Model is a live, customizable statistics dashboard. Simply create a report and pin it to the dashboard to view live data. Save time and quickly spot and monitor critical patterns.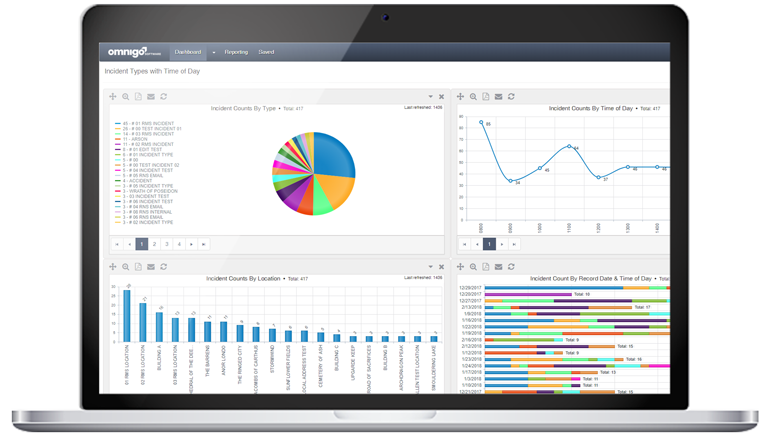 Demo Report Exec
Report Exec is a superior end-to-end solution that is easily configurable to meet your specific needs. Here are some of our customer's favorite features:
Automated Reporting

Improved Communication and Flow

360 Analytics Dashboards
About Omnigo
For more than 20 years, Omnigo software solutions have been the preferred choice for law enforcement, education, healthcare, gaming, hospitality, and corporate enterprises. Currently, Omnigo's solutions are used by over 2,000 customers in 20 different countries. At Omnigo, we're committed to helping customers secure their organizations' property, control operational costs, and ensure the safety of the general public.

We believe our customers deserve the best support available to protect their people, assets, and brand. We also understand how challenging it can be to protect the community without the proper resources. We're here to arm users with the best tools in the industry. With a team that includes former law enforcement, first responders, and other public safety professionals, we're uniquely qualified to understand exactly what our customers need to protect their community.
Add-On or Related Products
Public Safety Management Software Created by Law Enforcement Professionals
Dispatch and records management software created by law enforcement veterans and enhanced with feedback from our customers. ITI has been setting the standard for superior public safety management for nearly three decades. You can customize an affordable system using only the most beneficial modules to meet your specific needs.
Read more
View Product
Comprehensive Reporting Solution Helps Streamline Operations
There's a reason Omnigo Report Exec has been the trusted leader of reporting software for over two decades. Through a combination of industry expertise and customer feedback, we've created a superior end-to-end solution that is easily configurable to meet your specific needs.
Read more
View Product
Incident Reporting and Risk Management for Security and Surveillance Departments
Designed as the superior multi-departmental, multi-property solution for Security and Surveillance departments, iTrak delivers a comprehensive, secure platform for daily reporting, incident management, and subject profiling, with the ability to provide complete investigation management, interviews, and risk analysis and assessment
Read more
View Product