Whitepaper
Integrating Mobile Solutions in a Security Environment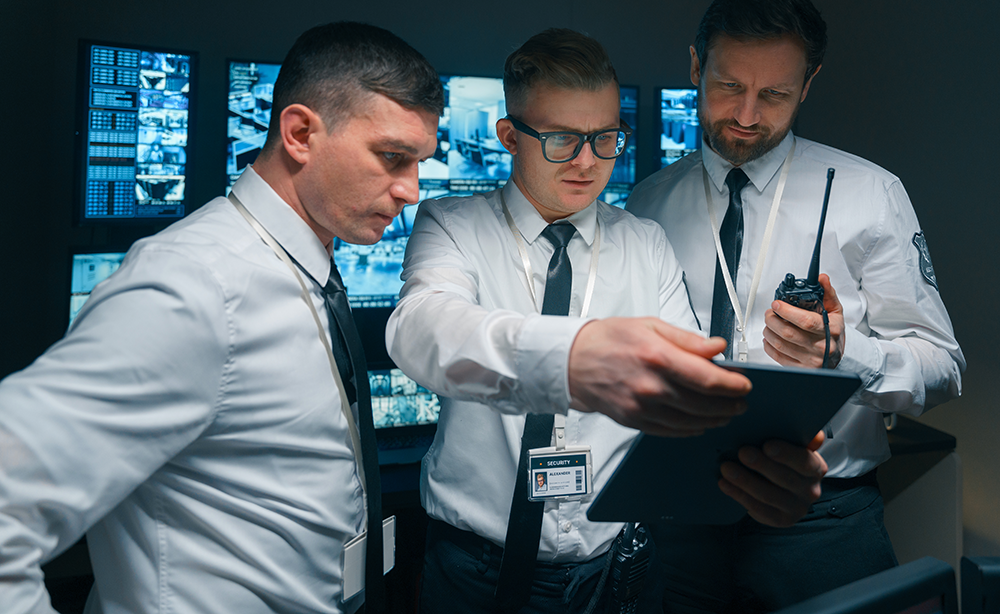 With the incidence of violent crimes becoming increasingly prevalent, maintaining a reliable, highly functional security team has never been more crucial for public places like corporate office parks.
At the same time as crime is on the rise, many organizations are grappling with funding issues that have stretched their security budgets thin. Faced with funding issues, many of these entities often view their security force as a candidate for budget cuts. Security may not be perceived as critical to daily operations when measured against other revenue-generating activities. Yet reducing the number of available security officers on patrol places employees, visitors, and other civilians at risk.
Organizations must find cost-effective ways to balance budgetary concerns with the need to maintain safe environments. By integrating a comprehensive, state-of-the-art mobile security suite with their legacy systems, security teams can leverage their available resources— and, in many cases, even realize a cost savings—while improving situational awareness and security.
Performance Value of Mobile Applications
One of the major challenges facing security teams today is balancing patrol duties with other tasks, such as maintaining incident logs and filling out paperwork. Administrative duties, while necessary, often require information to be entered using a desktop computer which pulls officers out of the field and away from patrolling and preventing criminal activity.
Tablet-based mobile software solutions provide personnel with the capability to complete necessary record-keeping tasks conveniently in the field rather than returning to their desk each time an incident report needs to be logged. This helps reduce gaps in security by enabling officers to remain fully deployed in the field for the duration of their shifts.
Integrated mobile security software allows activity logs to be updated in real time, providing officers in the field with instantaneous updates that can reduce response times and increase situational awareness. Mobile accessibility also enables officers to remain in contact with one another regardless of location, improving coordination of emergency responses and security patrols.
GPS-enabled mobile solutions also help streamline the emergency response process. Team leaders are able to access the locations of available units and delegate tasks to the nearest officer, reducing response times. If an officer is threatened by an assailant or otherwise placed in harm's way, the ability to ascertain his or her location enables other team members to quickly provide assistance.
Facilitating Patrols
Establishing a firm hold on the security of any environment is crucial. Yet the more expansive the coverage area, the more difficult it is to effectively conduct patrols. Integrating a mobile security suite can help alleviate these concerns by providing personnel with the means to be more responsive and react to emergencies and threats swiftly and more efficiently.
After a suspected perpetrator of a crime or policy infraction is detained, securing a conviction can be extremely difficult without a sufficient amount of evidence. The media capabilities of today's most sophisticated mobile solutions can help provide law enforcement, court, or disciplinary committee officials with accurate information to consider when weighing testimony.
When selecting a security software solution, a user-friendly interface is key to ensuring that members of the security team utilize the application to its full potential. This is especially true for organizations that have invested in an array of mobile devices, as unused or improperly handled equipment represent a waste of valuable budget resources.
Cost Savings of Mobile Applications
As numerous organizations from face budget crunches, minimizing costs has become an operational requisite. For example, the practice of printing reports can incur substantial expenses for an organization, with the associated costs of using paper—copying, printing, mailing, storage, and disposal—amounting to as much as 31 times the actual price of the supplies. Moving to a digital reporting solution can help organizations minimize such costs.
Making smart technological investments is essential to maximizing the financial benefits of transitioning to digital reporting. For instance, a top-of-the-line desktop PC can be a substantial investment, greatly reducing potential cost savings, especially considering the affordable prices of tablets. Energy used by mobile devices also pales in comparison to the amount needed to power desktop PCs. According to the Electric Power Research Institute, an iPad that is fully charged every other day consumes 12 kilowatt hours of electricity each year, representing a cost of $1.36 (USD). Desktop computers, on the other hand, use 20 times more power than iPads, totaling $28.21 per unit over the course of a year.
Mobile security solutions provide cost savings in other ways, as well, particularly in relation to regulatory compliance efforts. With mobile capabilities, security officers can fill out reports at the scene of an incident while the details are fresh in their minds. The ability to maintain accurate and complete records helps organizations bound to incident reporting regulations remain in compliance and avoid costly penalties.
Tablet-based software has also been shown to increase the productivity and efficiency of security departments. Maximizing the effectiveness of existing staff can directly—and positively—impact an organization's operating budget by reducing the need to hire additional personnel.
Customized Features
Every organization has unique operational needs; a viable solution at one institution may not meet the demands of another. For that reason, customizable mobile security software packages are more likely to maintain—or even maximize—a department's effectiveness. Industry-leading mobile security solutions offer a range of applications that can be downloaded from mobile app stores. This gives department leaders the flexibility to choose specific utilities that provide the most benefit and offer the best return on investment for their operation. Less flexible options often contain a standard set of applications; some of which may be ill-suited or irrelevant to a department's needs, resulting in a wasted investment when they go unused.
A Greater Level of Safety
Mobile devices and apps have had a significant impact on the business world. Most organizations utilize mobile devices in their day-to-day operations, and many are moving to mobile software solutions. The security industry is no exception. By integrating mobile solutions, security personnel can quickly and effectively communicate with one another, streamline emergency response efforts, and provide a greater level of safety.
About Omnigo
For more than 20 years, Omnigo software solutions have been the preferred choice for law enforcement, education, healthcare, gaming, hospitality, and corporate enterprises. Currently, Omnigo's solutions are used by over 2,000 customers in 20 different countries. At Omnigo, we're committed to helping customers secure their organizations' property, control operational costs, and ensure the safety of the general public.

We believe our customers deserve the best support available to protect their people, assets, and brand. We also understand how challenging it can be to protect the community without the proper resources. We're here to arm users with the best tools in the industry. With a team that includes former law enforcement, first responders, and other public safety professionals, we're uniquely qualified to understand exactly what our customers need to protect their community.
Protect Your Community With Effective Software Solutions That Drive Improved Efficiency
Schedule your customized demo