Whitepaper
The Right Way to Respond to Bullying Claims in Your School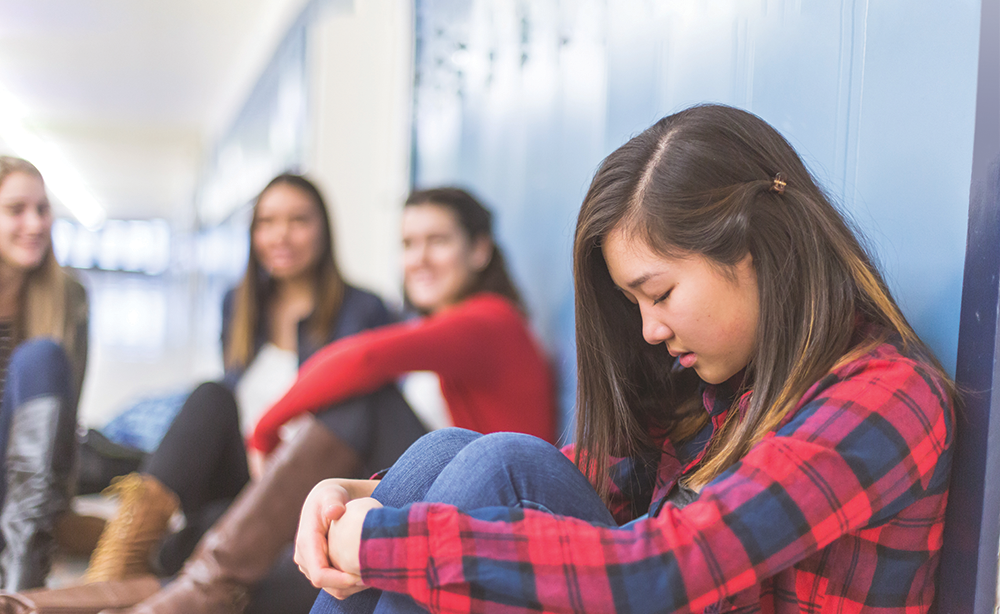 Bullying is one of the top issues School Resource Officers (SROs) and officials face. According to the National Center of Educational Statistics (NCES), more than one out of five 12- to 18-year olds report experiencing bullying, often in the form of insults, rumors, violence, or threats of harm—and because many incidents of bullying go unreported, the true number of bullied students is likely much higher.
Occurring primarily in grades five through twelve, bullying has far-reaching effects on the bullied individual, their peers, the school, and even the community at large. Those subject to bullying are at increased risk for poor school adjustment, depression, isolation, and anxiety. As a result, relationships with friends and family can be strained, further compounding the problem. Additionally, other children who hear about or witness bullying may be frightened to come to school, and the prevalence of bullying can result in negative perceptions of the school and its leadership.
Because of its profound negative impact, addressing bullying should be a top priority for school officials. Combating bullying effectively requires a mix of technology, strategy, and culture. Let's look at the tools and tactics officials can use to prevent and respond to bullying in their schools.
Create an open environment through awareness programs
Preventing and addressing school bullying should never be the sole responsibility of the bullied individual. The entire community of students, parents, and staff must support the effort to eliminate bullying. The most effective bullying prevention programs include school-wide education on what constitutes bullying and the extent of its harm, as well as prevention tactics, bystander intervention strategies, and reporting of incidents.
Technology, such as educational videos, self-paced training programs, and mobile personal safety apps, plays an important role in creating a culture of awareness and open communication. By promoting the positive outcome of these technologies, victims are encouraged to come forward. After all, if bullying incidents aren't reported, identifying, addressing, and preventing this behavior effectively is extremely difficult, if not impossible.
Provide the ability to report anonymously
Often, bullied individuals aren't the ones to report their experiences. Bullying claims often originate with victim's parents after witnessing progressive changes in their children's behavior, such as isolation, depression, and a reduction or change in social circles and peer groups. Fear of retaliation—in the form of physical, emotional, and/or reputational harm—is likely the most common reason students don't report bullying.
Providing anonymous reporting tools can alleviate this fear. When students and family members are confident that their identities will be protected, they are more inclined to report incidents knowing their concerns will be taken seriously and the incidents will be handled with discretion. Furthermore, the presence and promotion of anonymous reporting capabilities serve as a deterrent to bullies on campus.
Many school administrators provide anonymous reporting capabilities via a link or form on the school website. Increasingly, administrators are implementing a dedicated mobile app that allows students, parents, staff, and the school community at large to report bullying incidents safely and anonymously. Mobile apps designed specifically for anonymous reporting also offer the unique benefit of reaching students on their preferred platform—their cell phone—greatly increasing the likelihood of reports.
Collect statistical data to understand bullying trends
School administrators who provide anonymous reporting capabilities see a significant uptick in the number of bullying claims. By capturing this information with the right tool, administrators are better equipped to make educated decisions on how to combat bullying in the future. Data analysis provides deeper insights, such as:
What is the most common type of bullying on your campus? Is it physical, emotional, social, or a combination of the three?

Which demographics are most likely to experience bullying on your campus? What can you do to support these demographics specifically?

Which demographics are most likely to become bullies? How can you deter these demographics specifically?

What are the effects of bullying on your campus? What resources can you provide to diminish these effects and decrease adverse outcomes?

What can you infer about the causes of bullying on your campus? How can you intervene before it escalates?



Answering these questions enables administrators to successfully prevent and address bullying within their schools.
Build a data-driven safety plan
Effective safety plans differ based on the specific needs and issues of individual schools, but a comprehensive safety plan must address bullying at each stage of the incident lifecycle. Prevention tactics include educating the entire school community about the negative effects of bullying, providing the necessary tools and information to empower them to intervene when a situation escalates, and improving surveillance in bully-prone areas.
Certain strategic efforts, such as creating opportunities for positive social interactions among students, staggering class dismissal schedules for older and younger students, and providing individualized counseling for at-risk individuals, help prevent bullying by improving the school's culture.
Identifying bullying is improved by promoting the availability of easily accessible reporting tools, increasing awareness of the signs of bullying both in school and at home, and encouraging bystander intervention by students, staff, and faculty.
Although students should never be encouraged to intercede if doing so compromises their own safety, studies have shown that more than half of bullying situations stop when a peer intervenes on behalf of the victim. Because anonymous reporting encourages peer intervention, enabling this type of student-driven detection provides administrators with a powerful tool capable of reducing bullying incidents in schools.
An effective response plan must protect the victim's identity, enforce consequences for bullying, and discourage future misconduct. Most importantly, responding to bullying claims should involve counseling and support services for students. Both bullies and victims may have social, emotional, or behavioral issues—either as a result of the bullying or an underlying cause of it—and helping students manage these problems is key to preventing future incidents.
Continue to report, analyze, and optimize your prevention strategy
Anonymous reporting tools provide a continuous feedback loop that helps administrators understand whether or not safety plans are effective. Students are constantly entering new schools, moving up to the next grade, graduating, and moving away, as well as maturing, so the bullying prevention program implemented one year may not yield the same results in subsequent years. Continued use of reporting technology on campus and data analysis helps detect changes in bullying behavior and provides administrators with insight into specific needs from year to year.
Administrators must remain hyper-aware of the bullying climate within their schools at all times. Keeping detailed, easily accessible records of bullying incidents helps administrators track the social culture, identify high-risk individuals, and understand when and where a more aggressive plan needs to be implemented. When a shift in bullying trends is detected on campus, the effectiveness of bullying prevention strategies must be re-examined and adjusted accordingly.
Improve Student Safety with Education, Training, and Reporting Technology
Bullying often has lifelong effects on students, hindering their success long after high-school graduation. To foster the positive social, emotional, and behavioral development of their students, school administrators must do everything possible to prevent and address bullying before it escalates.
Successfully responding to bullying claims involves creating a culture of open communication, increasing awareness through educational programs and training, providing technology to enable anonymous reporting, and examining incident data to analyze and optimize the success of prevention programs. By using technology to assist in these efforts, school administrators are better able to create the optimal school environment for student safety, satisfaction, and success.
About Omnigo
For more than 20 years, Omnigo software solutions have been the preferred choice for law enforcement, education, healthcare, gaming, hospitality, and corporate enterprises. Currently, Omnigo's solutions are used by over 2,000 customers in 20 different countries. At Omnigo, we're committed to helping customers secure their organizations' property, control operational costs, and ensure the safety of the general public.

We believe our customers deserve the best support available to protect their people, assets, and brand. We also understand how challenging it can be to protect the community without the proper resources. We're here to arm users with the best tools in the industry. With a team that includes former law enforcement, first responders, and other public safety professionals, we're uniquely qualified to understand exactly what our customers need to protect their community.
Protect Your Community With Effective Software Solutions That Drive Improved Efficiency
Schedule your customized demo