Whitepaper
Why Your Organization Needs an Omnigo Cloud Solution
By Damian Starosielsky, CTO, Omnigo Software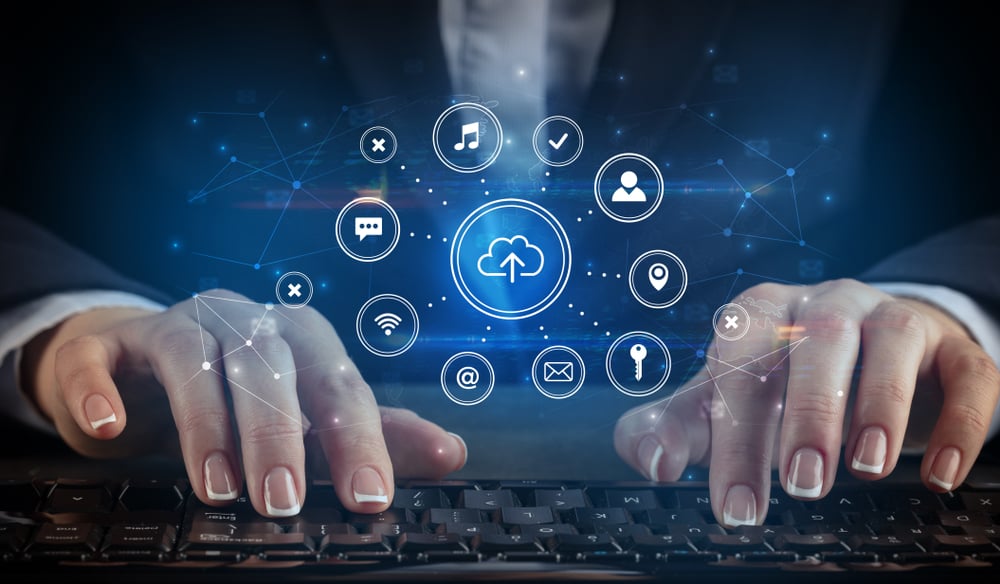 Omnigo has been providing software solutions to organizations and communities for decades. Over that time, our team has developed a unique perspective about the adoption of cloud technologies across the markets we serve. We believe it's imperative to offer our customers the flexibility of hosting our solutions on premises or in the Cloud, and we're able to assist customers who host on premises to migrate to the cloud when they're ready.
For agencies wondering if the Cloud is right for their organization, keep reading to learn the benefits of moving your Omnigo solution to the Cloud.
WHAT ARE THE BENEFITS OF MOVING TO THE CLOUD?
1. Speed
Consider the steps needed to build and support an on-premises hosting infrastructure – including identifying real estate, procuring hardware and software, configuring hardware and software, and hiring and training personnel. It's clear the Cloud is faster.
The speed difference between Cloud and on-premises will be particularly pronounced in new deployments that require new infrastructure, but it is also a factor in existing IT environments that are always changing, because, in the Cloud, they're able to change much faster.
2. Software Updates
When you adopt a Cloud solution, software updates are included and performed automatically and transparently. In some cases, Omnigo offers dedicated hosting solutions that allow explicit control over change windows and updates, so updates end up being deployed more often with significantly less effort. This also improves security with very frequent patches and enables faster access to application improvements, new features, and bug fixes.
3. Cost Reduction
Considering the effort required to deploy on-premises hosting infrastructure, it's no surprise there's also large upfront investments required. There's another significant advantage when it comes to the cost differences between Cloud and on-premises. Because of the effort and delays associated with spinning up additional resources in an on-premises solution, it is quite common to over-provision capacity, causing a sizable portion of the infrastructure to remain idle most of the time, which can result in significant loss of efficiency.
In the cloud, you provision only what you need. In modern elastic deployments, additional capacity is automatically added and subtracted on an as-needed basis, eventually leading to exceptionally large cost savings in compute, storage, and networking capacity.
4. Scalability
Capacity needs change over time, and it's important to adapt to a new reality that requires more capacity from the IT infrastructure. The cloud solves this problem by allowing immediate upsizing and downsizing of computational, storage, and networking resources.
At Omnigo, we've seen a growing trend throughout public safety, healthcare, gaming, education, and corporate environments where multimedia has become an integral component of incident and record management. Images, videos, and digital evidence are necessary to show the details of an incident – what happened, where it happened, and how it happened -- but these take up ample amounts of storage space.
How do we make sure the storage capacity is able to grow at a pace that keeps up with an increasingly digital world? Only the Cloud can elegantly solve this problem providing multiple storage options that infinitely scale with ever-changing needs.
5. Troubleshooting and Resolving Issues
In a perfect world, software would always work and be self-explanatory, but even the best software requires users to troubleshoot issues from time to time.
By having customers both on-premises and on the Cloud, Omnigo can quantify the difference between reaching a support ticket resolution for a Cloud customer versus an on-premises customer. Despite our efforts to minimize this difference, advantages --such as witnessing and monitoring issues raised by customers in real time -- provide undeniable efficiencies.
6. High Availability and Disaster Recovery
High availability and disaster recovery are two different things but grouped together here because they're typically solved with replication. Replication allows users to continue service in case of temporary failure of an infrastructure component by rerouting to another. It also allows users to recover from a deeper, catastrophic failure scenario.
Think back to the effort involved in setting up your own infrastructure. Now multiply that by at least two and add technology and infrastructure to support handoff between your replicated components, and you have an approximate idea of how hard it is to solve for high availability and disaster recovery on-premises.
Omnigo's Cloud Systems are designed to be replicated across availability zones, offering high levels of availability even in cases of significant data center outages.
7. Mobile
The adoption of Mobile devices is one of the few technology trends capable of rivaling the adoption of cloud. People nowadays tend to rely much more on mobile apps as part of their workflows, benefitting from significant efficiency gains in the process.
Mobile and cloud go hand in hand. The easiest way to deploy scalable Internet accessible infrastructure is via the cloud. Creating publicly accessible on-premises infrastructure creates significant challenges in the areas of networking, security and scalability, all of which are much easier to solve with a cloud-based approach.
8. Security and Compliance
The topics of security and compliance alone are deserving of several whitepapers to do them justice, but, in short, cloud technologies significantly simplify security and compliance programs primarily because users are offloading them to entities that make huge investments in this area and execute at an enormous scale. Amazon Web Services, Microsoft Azure, and Google Cloud all have the resources to maintain ultra-secure datacenters in undisclosed locations with armed guards and state-of-the-art security technology. It's not hard to see how difficult it would be to create the same security controls on-premises.
When you run applications using cloud Infrastructure, you're effectively offloading the security controls and compliance to your vendor, making you only responsible for application and organizational level controls. Further, if you use a SaaS (Software as a Service) application, even the application controls are offloaded to your vendor, so you're only responsible for Organizational controls. While this is a slightly simplified view of a very nuanced topic, it provides an overview of the security advantages of the cloud.
What about environments that are shared across tenants? This comes up often in cloud adoption conversations and is even explicitly regulated in some jurisdictions. While every jurisdiction deserves its own analysis with respect to the legality of operating shared infrastructure, the clear trend is the increased adoption of multi-tenant environments in the cloud, with the corresponding changes in legislation. Multi-tenancy provides many benefits, and the risks of breaches associated with their shared nature have not materialized in any significant way. To name two compliance frameworks familiar to Omnigo and our customers, there is plenty of precedent deploying CJIS and HIPAA compliant applications in the Cloud.
WHAT'S THE DOWNSIDE OF THE CLOUD?
The main risk is that migrating to the cloud can be extremely complicated with challenges that can delay and burden projects with unforeseen costs. The good news? Omnigo has helped hundreds of customers move their on-premises systems to the Cloud using a simple, turn-key approach.
In most cases, migration projects are completed in a few days, while the more complicated ones take a few weeks.
IT'S TIME TO MOVE TO THE CLOUD
Despite the explosive growth of cloud computing in recent years, some segments and businesses have been slower to adopt it. If you are a leader in one of those organizations, we highly encourage you to keep the benefits outlined here in mind as you devise your technology strategy. Ignoring these benefits may put you at a significant disadvantage to your competitors and lead to what will be perceived as a suboptimal experience for your customers.
For those agencies that would be starting on the cloud, there are no real disadvantages or risks to hosting your Omnigo solution in the Cloud. For agencies considering a move of your Omnigo solution from on premises to the Cloud, the biggest risk is the miscalculation of time and effort needed to execute the migration. Omnigo will be there to support the migration.
About Omnigo
For more than 20 years, Omnigo software solutions have been the preferred choice for law enforcement, education, healthcare, gaming, hospitality, and corporate enterprises. Currently, Omnigo's solutions are used by over 2,000 customers in 20 different countries. At Omnigo, we're committed to helping customers secure their organizations' property, control operational costs, and ensure the safety of the general public.

We believe our customers deserve the best support available to protect their people, assets, and brand. We also understand how challenging it can be to protect the community without the proper resources. We're here to arm users with the best tools in the industry. With a team that includes former law enforcement, first responders, and other public safety professionals, we're uniquely qualified to understand exactly what our customers need to protect their community.
Protect Your Community With Effective Software Solutions That Drive Improved Efficiency
Schedule your customized demo