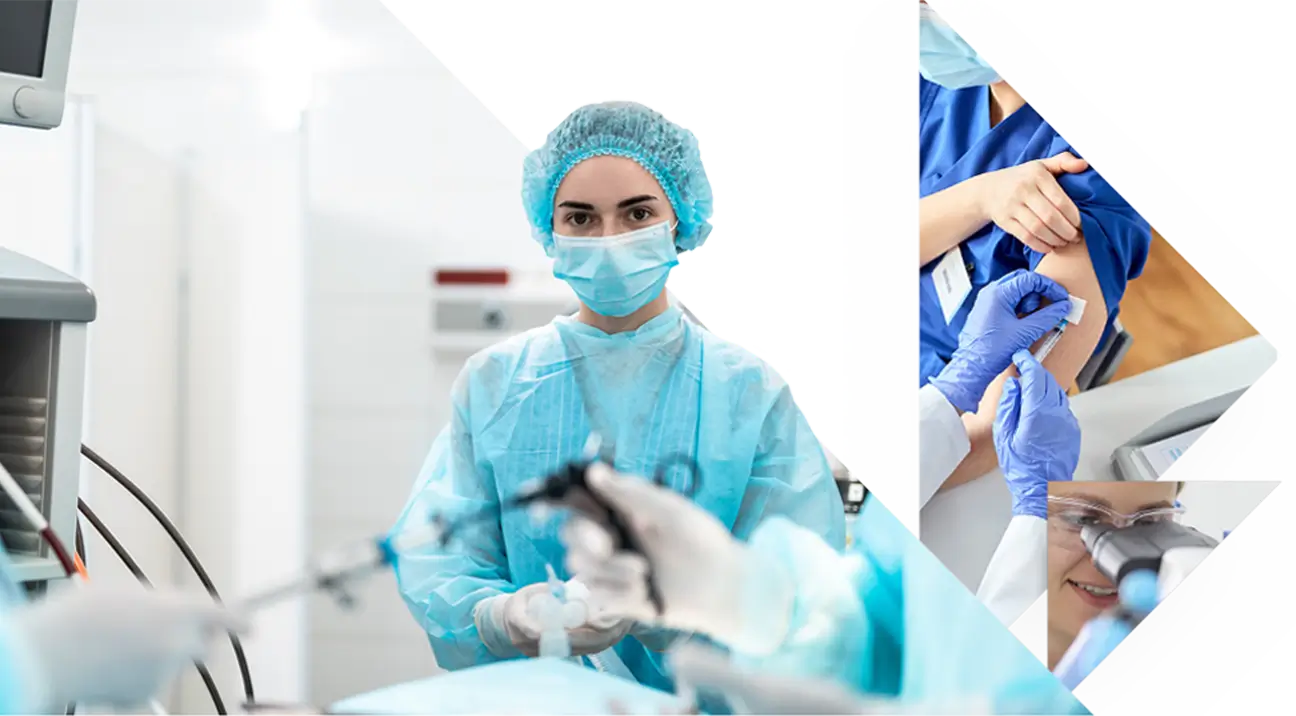 Healthcare Safety and Security Solutions
Address Regulatory Compliance, Safety, and Security
The safety and security of healthcare facilities are a cornerstone of public trust. The protection of patients, staff, and visitors is a top priority for healthcare systems across the country.
Schedule a Demo
Solutions Customized to Protect Healthcare Professionals
Companies that lead the industry in continuous improvement of their security and safety programs see increased job satisfaction, lower turnover, and better patient care.
Mitigate Workplace Violence by Monitoring High-Risk Areas
Ensure that officers routinely check high-risk areas and automatically notify management when required tasks are not completed.
Explore Safer Communities Solutions
Effectively Manage Visitors
Our Visitor Management Software for hospitals can integrate with other threat detection solutions to determine high-risk visitors and alert the appropriate staff.
Explore Safer Communities Solutions
Comply with OSHA and Joint Commission Regulations
Omnigo's Security Management Software makes complying with state and federal regulations simple and easy.
Explore Record Management Solutions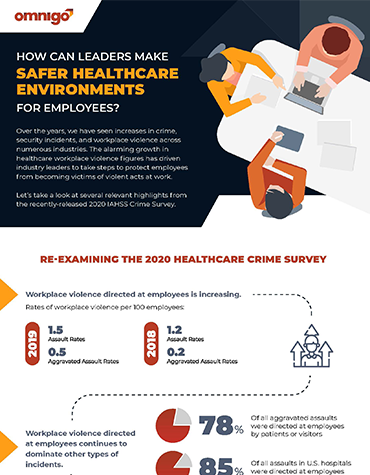 How Can Leaders Make Safer Healthcare Environments for Employees?
The alarming growth in workplace violence in nursing and healthcare as a whole has driven industry leaders to take steps to protect employees from becoming victims of violent acts at work. Including performing workplace violence training and implementing a hospital risk management system.
Healthcare Safety Solutions
Optimizing the information, data organization, and communication resources available in your healthcare facility's security management software system has never been more critical.
Better focus on patient care
Enhance employee health, satisfaction, and retention
Improved HCAHPS scores and recognition from patients, visitors, and the community that your facilities are safe and secure through a visitor management system
Comply with federal and state regulations, including OSHA, Joint Compliance, & more
Develop and integrate de-escalation and decision-making workflows
Increase response effectiveness in fast-moving situations
Improve investigative response time after an incident
Control permissions to offer anonymity in reporting
Integrate with security systems and patrols
Categorize incidents for effective, meaningful analysis and reporting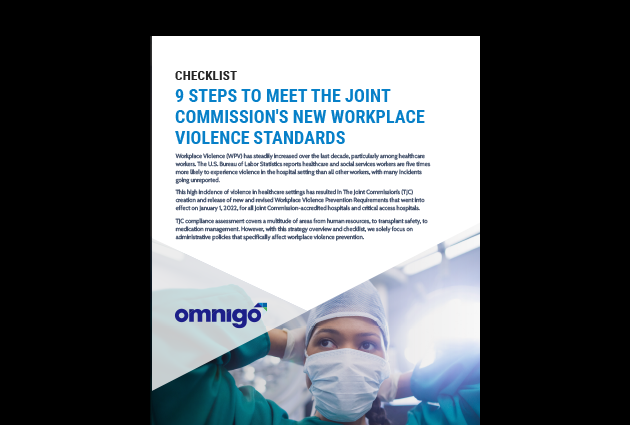 Your Checklist to Help Meet the Joint Commission's New Workplace Violence Standards
Ensure your hospital is prepared to comply with the new and revised regulations that went into effect on January 1, 2022.
Download the Checklist
Trusted by These Top Healthcare Institutions
Safeguard the Integrity of Surveillance Footage
Our cloud-based digital evidence management system makes it simple and efficient to store, recall, securely share, and utilize your surveillance footage.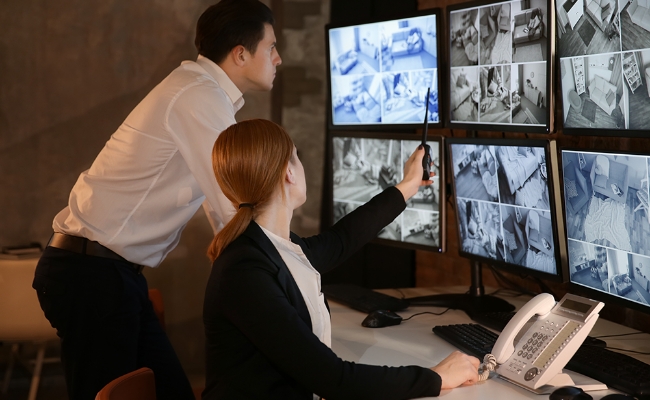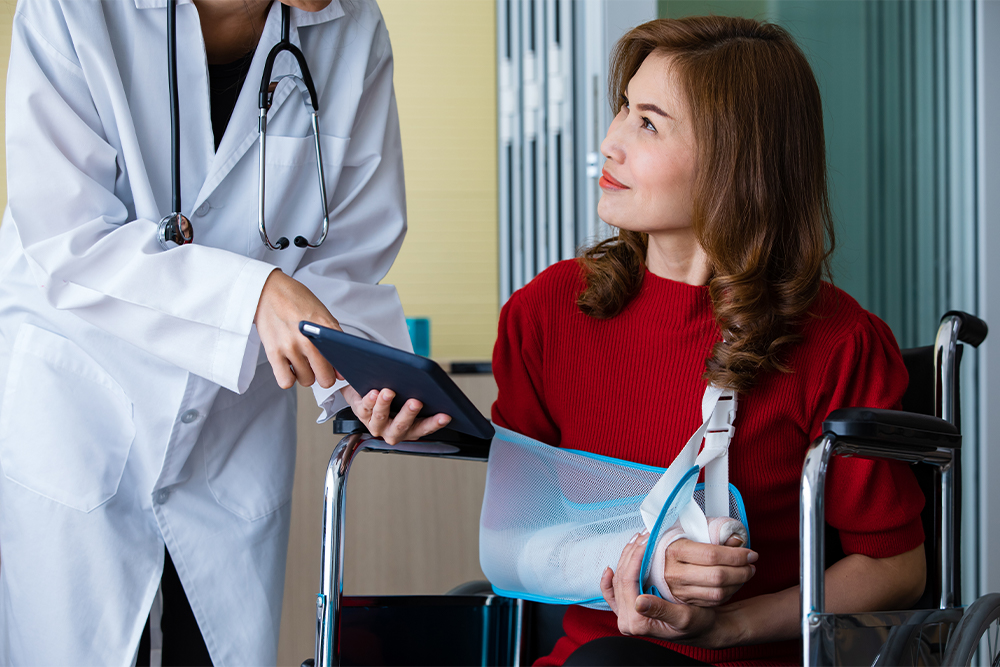 Improve Incident Reporting
Documentation and demonstration of compliance with regulatory standards and guidelines are important, but they are just the beginning of your comprehensive workplace safety and security program. Incident reporting software can serve as the backbone of an effective healthcare workplace violence prevention program.
Keep Your Healthcare Facility Safe and Secure
See how the right safety and security management software can help healthcare organizations comply with regulations, improve efficiency, and protect staff.